We have five lovely en-suite rooms that can accommodate up to 11 guests in total.
Our hotel rooms are open again following the long lock down. Obviously we have updated our procedures to conform to government guidelines to ensure all rooms are sterilised between guests. For the time being we have changed to providing continental breakfast with the option of room service.
All the rooms are individually decorated. Rooms one and two are really spacious and have great views overlooking the river and front terrace. However do be aware we are busy on weekend nights and these rooms are affected by the hub-bub from the bar until around 11.30pm.
Where dinner is included in the room rate this allows for a three course dinner from our daily menu.
Room three is a little smaller than rooms one and two, but still has a river view and is perhaps cosier.
And finally room four, our smallest and quietest room to the rear of the building. Rooms one and five have baths with showers, two, three and four have shower cubicles.
Dinner Included
Where dinner is included in the room rate this allows for a three course dinner for two at Number Ten our gallery restaurant. Although please note the price excludes supplements for cheese etc.
The dinner packages always offer better value on the bed and breakfast prices.
Pets
We love dogs in the bar, but not in the rooms, sorry.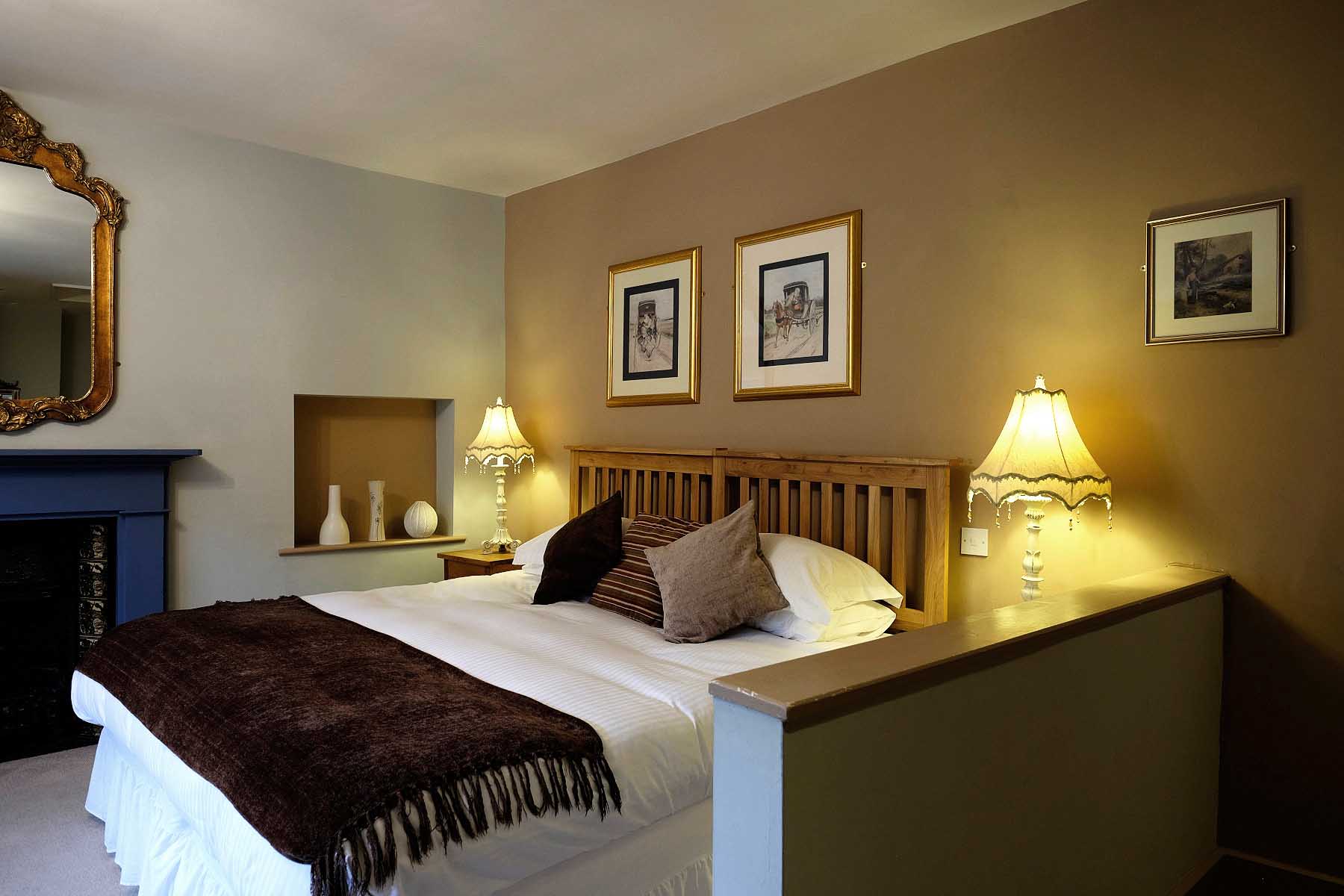 Car Parking & Access
The White Hart does not have a car park . There is parking on the street (The Wharfage) in designated areas, after 6pm for overnight stays. The long stay car park is the other side of the Iron Bridge. 24hr is approx. £3.00. To access this car park follow the river downstream from us, cross over the new bridge & follow the signs to the Iron Bridge car park. You can then walk across the iron bridge onto the main street and we are just 200 yards down. On arrival pull up near to us on the double yellow lines and check in first so we can direct you,
 a short stop won't upset anyone. BUT please do not park in our neighbours car park next door – (it looks like our car park but isn't) …they do get understandably upset!
The White Hart building is old and has proved hard to completely adapt. However there is a flat clear entrance into the bar. There is one step down into the lower restaurant. Technically you can access our rooms from a ground floor access without using steps or stairs but it is a fairly steep ramp to the rear door.
Beautiful Rooms and Relaxation
CONTACT
Email
info@whitehartironbridge.com
Open Daily from 11am
Lunch: 12 noon to 2.30pm
Dinner at Number Ten:
6.15pm - 9.00pm
Sunday Lunch:
Noon to 4pm & Sunday
Supper Menu: 6pm to 8pm
Open Daily from 11am

Lunch: 12 noon to 2.30pm
Dinner at Number Ten:
6.15pm - 9.00pm
Sunday Lunch:
Noon to 4pm & Sunday
Supper Menu: 6pm to 8pm